IT'S TIME FOR RACE 2
@Associates
@Members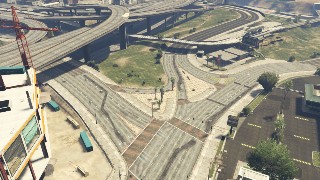 In an unprecedented turn of events somebody else besides
@Kennie22
and
@Data1B4
won the race
(it was me OMGOMGOMG i still can't believe it)
, but rest assure that they will not let that happen again. The last race was so fierce that the difference between our two legendary drivers was only 1 MILLISECOND! and less than 20 between the top 3. But the race was also exciting outside the podium because the battle for the Best race time was decided by only half a second. And even though two PC drivers took the main prize for both Best Lap time and Race time, the PS4 team had the best performance and took the 1st place.
​
For this race we will head Downtown LS in our beloved crew car, the Sultan. The Slipstream GP is a high speed circuit: 2 fast sectors, 5 low speed corners and 2 chicanes will ensure a very exciting race for the speed lovers.​
Rules
Host the race on standard race type.
No company allowed, you have to race

alone

.
Custom cars allowed (unless told otherwise).
You have to race on the amount of laps and with the car/class specified in order get your time submitted in Time Trials' Leaderboards.
You can make as many attempts as you want.
You can post screenshots of your times. They are as valid as the R* leaderboards for us.
Information
The driver with the FASTEST LAP wins the race.
Top 3's Race time won't be considered for the "Race Time" bonus award.
For team competition will be taken the Top 5 drivers of each platform.
Points system
Points will be distributed from bottom to top, adding 1 point to every step up in the ladder until the top 3 drivers. Podium drivers will have 4 more points more than the rest, and 2 points of difference between them. Example:
12 pts (+2 pts)
10 pts (+2 pts)
8 pts (+4 pts)
4 pts (+1 pt)
3 pts (+1 pt)
2 pts (+1 pt)
1 pt
BONUS POINTS: These points will be awarded to those drivers with the best Race Time, that aren't in the podium (4th place down).

3 points to the best Race Time.
2 points to the 2nd best Race Time.
1 point to the 3rd best Race Time.

Prizes
(For the season winners)
(Sponsored by @vipr9 Enterprises)
1st Place: $300 Vice Dollars.
2nd Place: $150 Vice Dollars.
3rd Place: $50 Vice Dollars
Everybody else: $10 Vice Dollars.
Warned drivers
The people listed here already have times submitted from previous race. Take note of your time, in case you're are unable to improve it please post your current time here in this thread.
PC Drivers
Daszkal | Lap: 1:10.400 | Race: 4:58.680
PS4 Drivers
Ray__Downs | Lap: 1:14.891 | Race: 5:05.533
@Magic_bean
| Lap: 1:07.088 | Race: 6:08.219
Xbox Drivers
JGourdine2004 | Lap: 1:16.845 | Race: 5:12.640
One of the best things of Time Trials is that we can all be part of it , no matter the platform, and that bring us together as a group. That's why we encourage you to actively participate in the discussion here in the forum:
Do you have a question? Don't be shy and post it!
Are you frustrated with that damned corner that makes you lose precious time? Tell us! We may help you out (or maybe not... maybe i'm winning and i don't want tell my secrets).
You managed to make a fantastic lap and you got 1st? Brag about it so we can insult you (with the caring love of a fellow crewmate).
As tradition dictates,
@Kennie22
and
@Data1B4
are making impossible times? You can trash talk about them,
but always with respect.
The idea here is to have fun and meet our crewmates a little better, we can compete with each other, tease each other, help each other, but at the end... we are only playing. Good luck guys and thanks for participate!

DETAILS
Race:
The Slipstream GP
Laps:
4
Vehicle:
Karin Sultan
(Not Benny's Sultan RS)


Link to the track:
Click here
Finish:
Sunday, May 14th. 9:00pm (CST) / 3:00am (GMT)
ViceGamers' Time Trials are brought to you by
@vipr9 Enterprises