PLACE YOUR BETS FOR RACE 3
@Associates
@Members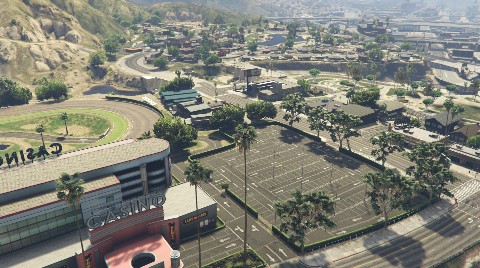 In Race 1 the top 3 established their supremacy thanks to a Vapid Blade... but in Race 2 another Blade came into play...
@Kobi Blade
debuted on Time Trials by demolishing the wall of 0.59 seconds that kept everybody in line. Most of the race was dominated by the DDD (Danish Dynamic Duo)
@Magic_bean
and
@Kennie22
as well as
@Data1B4
, but they couldn't to do anything when Kobi came like a lightning ray beating those times to the ground. At the final stages of the race the still skeptical
@Stellated
came trying to beat the new challenger with no success, settling with the 2nd place.
In spite of being knocked out of the podium
@Data1B4
rescued his glory by establishing an amazing race time and taking the 1st bonus prize home, but
@Magic_bean
and
@Jamesmorris3217
didn't stand behind and took the 2 remaining prizes, achieving a total Race Time podium for the PS4 Team.
​
Turn your classic sports car on and head up to northeast LS, there you will take it for a spin around the casino and the areas surrounding Mirror Park in a 3 lapped race.​
Rules
Host the race on standard race type.
No company allowed, you have to race

alone

.
Custom cars allowed (unless told otherwise).
You have to race on the amount of laps and with the car/class specified in order get your time submitted in Time Trials' Leaderboards.
You can make as many attempts as you want.
You can post screenshots of your times. They are as valid as the R* leaderboards for us.
Information
The driver with the FASTEST LAP wins the race.
Top 3's Race time won't be considered for the "Race Time" bonus award.
For team competition will be taken the Top 5 drivers of each platform.
Points system
At the end of each race the Global standings will be splitted into two different standings: PC Drivers and PS4 & Xbox Drivers. Points will be distributed separately on each standing in the following way:

Best Lap time
1st | 25 points.
2nd | 18 points.
3rd | 15 points.
4th | 12 points.
5th | 10 points.
6th | 8 points.
7th | 6 points.
8th | 4 points.
9th | 2 points.
10th | 1 point.

BONUS POINTS: Awarded to the 3 best Race times of the Global standings.
Best Race time
1st | 3 points.
2nd | 2 points.
3rd | 1 point.
Tiebreaker criteria
1st criteria: Race time comparison of tied drivers on each race.
2nd criteria: Lap time comparison of tied drivers on each race.
3rd criteria: Race time position of tied drivers on global standings of each race.
Winners & Prizes
(Sponsored by @vipr9 Enterprises)
Main Prize | Time Trials champions:
The top 3 drivers with most points.
(Sponsored by @vipr9 Enterprises)
1st Place: $300 Vice Dollars.
2nd Place: $150 Vice Dollars.
3rd Place: $50 Vice Dollars.

Other Prizes
Team champions:
The top 3 drivers with most points of each of the 3 teams.
1st Place: $75 Vice Dollars.
2nd Place: $50 Vice Dollars.
3rd Place: $25 Vice Dollars.
Most consistent driver:
The driver with the most Bonus podiums and better Race times of the season
All these prizes are
NOT
mutually restrictive, meaning that you can be Time Trials champion and Champion of your team and win $375 Vice Dollars.
Every driver will receive $10 Vice dollars for participating on Time Trials, if is not awarded with any of the previous prizes.
Warned drivers
The people listed here already have times submitted from previous race. Take note of your time, in case you're are unable to improve it please post your current time here in this thread.
PC Drivers
@Kobi Blade
| Lap: 1:55.398 | Race: 5:51.277
@GreenBorroco
| Lap: 1:55.028 | Race: 5:54.719
@Merc1138
| Lap: 2:16.759 | Race: 7:09.763
One of the best things of Time Trials is that we can all be part of it , no matter the platform, and that bring us together as a group. That's why we encourage you to actively participate in the discussion here in the forum:
Do you have a question? Don't be shy and post it!
Are you frustrated with that damned corner that makes you lose precious time? Tell us! We may help you out (or maybe not... maybe i'm winning and i don't want tell my secrets).
You managed to make a fantastic lap and you got 1st? Brag about it so we can insult you (with the caring love of a fellow crewmate).
As tradition dictates,
@Kennie22
and
@Data1B4
are making impossible times? You can trash talk about them,
but always with respect.
The idea here is to have fun and meet our crewmates a little better, we can compete with each other, tease each other, help each other, but at the end... we are only playing. Good luck guys and thanks for participate!

DETAILS
Race:
Casino Royale
Laps:
3
Class:
Sports Classics
Link to the track: Click here
Finish:
Sunday, May 21th. 9:00pm (CST) / 3:00am (GMT)
ViceGamers' Time Trials are brought to you by
@vipr9 Enterprises